Concerts, Festivals, School Assemblies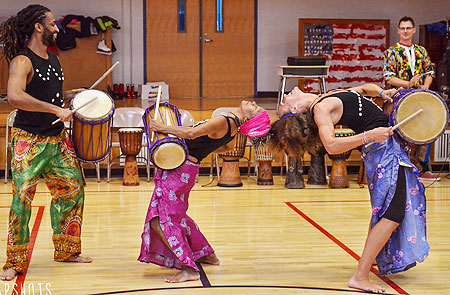 Ammaya Dance & Drum includes master West African drummers and dancers, and a diverse group of professional artists. The ensemble offers a fun, high-energy and participatory educational program for concerts, festivals, school assemblies and family events. With highly favorable reviews, they have been presenting performances regularly throughout the New England area at public venues, public and private schools, colleges, libraries, senior residences, and more. By watching and participating, audiences experience West African cultural traditions. They take something very special with them: African dance, rhythm and song!
We vary and customize each show according to the setting and nature of the audience.


Opening the show, the ensemble performs West African dance, drumming and song in traditional costumes. The opening pieces are exciting and dynamic, giving audiences a taste of the culture and art forms.


The lead drummer then shares about the background and purpose of drumming in West Africa.


The audience can then try the drumming themselves! The ensemble drummers will teach several simple rhythms that people can play informally in a group. In this way, participants can learn rhythms and experience African drumming firsthand.


The ensemble dancers will then lead simple African dance movements for the audience. People may come up and dance informally in a group, learning simple traditional steps and having some fun together!


Next, the lead drummer will teach a beautiful call and response West African song from his home country. People get to sing along and learn a traditional song from Guinea or Mali.


Our program concludes with more performances of traditional dance and drumming from Mali, Guinea, or Senegal, West Africa. At the end of the piece, everyone in the audience is invited to dance and drum again together in a rousing community finale!

Our assemblies and performances are joyful, hands-on and energizing. West African music and dance bring people together in a feeling of unity. Most of all, our shows are an invaluable learning opportunity and immersion in West African culture — through dance, drumming and song.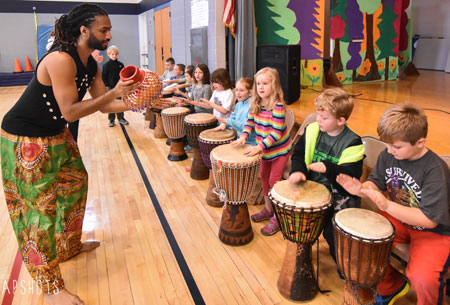 "I just wanted to thank you for last night. It was so much fun and I just loved seeing the pure joy on everyone's faces. What you all brought to the room was very important and appreciated. Thank you! Thank you!"
K.S.
"So grateful for your visit today. The participants were all smiles. You all have such a great spirit and energy. "
K.D.